Welcome Homeowners!
Or give us a call directly!

(661)-269-7311
Let's Work Together!
WASY HOMES is a premier Real Estate Investment & Solutions Company, whose goal is to help homeowners while improving the overall standard of living in a community.
We assist homeowners facing a multitude of various real estate problems, and we purchase multiple properties each month, with a focus on Residential Redevelopment to help revitalize communities.
Whether you're facing foreclosure, have a tear-down property, have squatters in your boarded up property, or are simply looking to cash out on your home, WASY HOMES has a solution.
We pride ourselves on our ability to produce out-of-the-box solutions for real estate problems, as well as connecting non-distressed homeowners with amazing professionals to help get their home sold for the best price!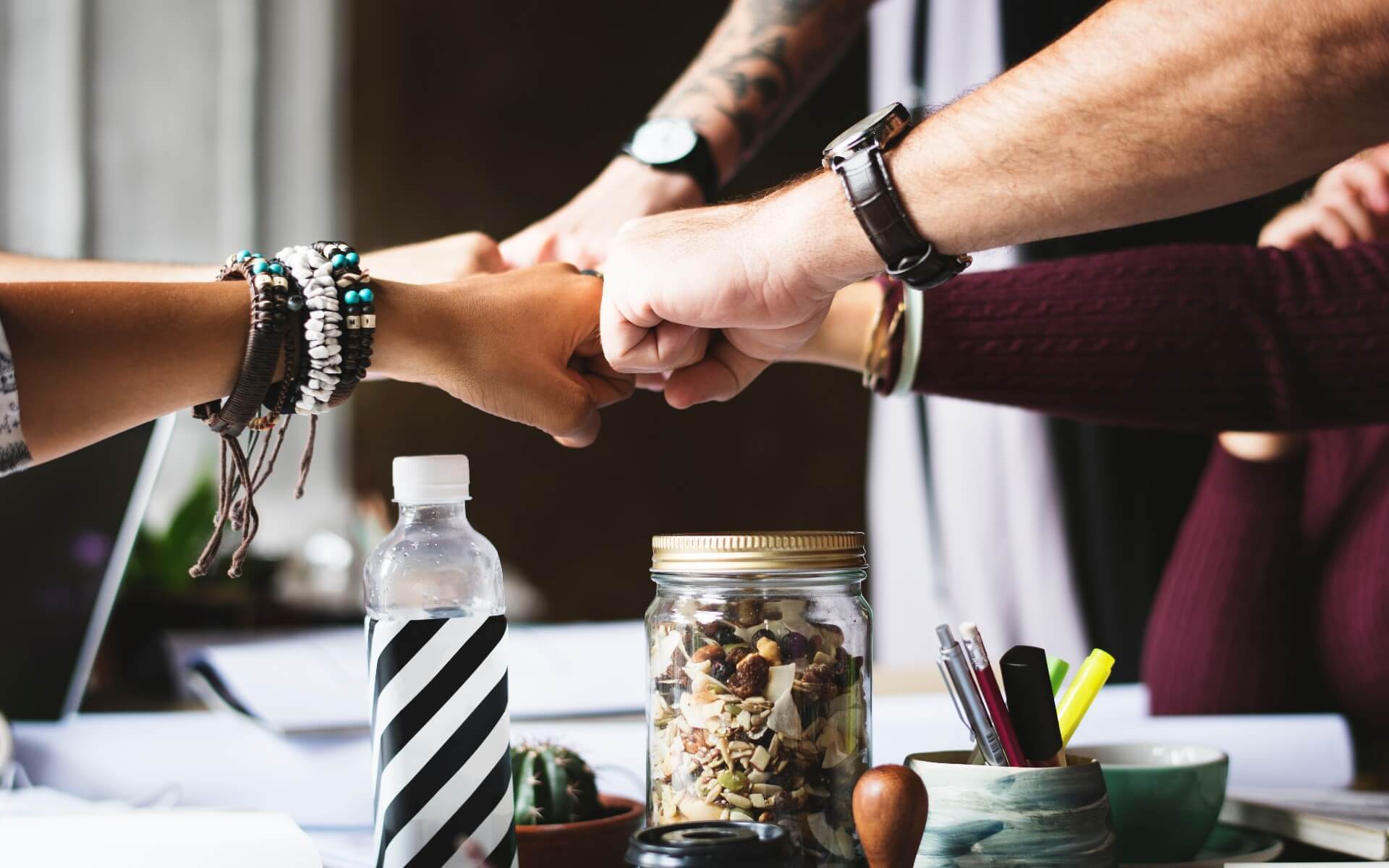 Getting Started Is Simple!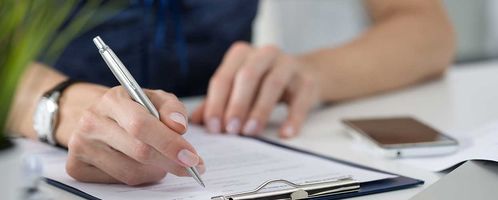 Fill Out The Form
Step #1
Get A Call From WASY HOMES
Step #2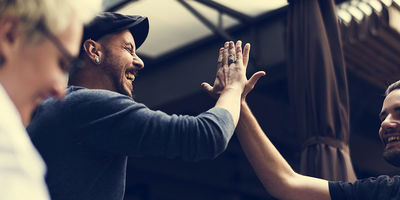 Pocket Some Cash!
Step #3
A Little About Us
WASY HOMES is the area's premier real estate solutions company, and since our inception we have been helping homeowners along with improving communities in each and every city we work in. Through our extensive knowledge of the business, network of resources, and extensive expertise, we are able to assist homeowners with a wide variety of real estate problems.
In addition, we re-develop a large number of single family and multi-family properties throughout the state with the intention of revitalizing communities and encouraging home ownership. Our mission is to rejuvenate neighborhoods and increase the standard of living by improving the overall quality of housing for the residents. Fill out the form today and let's see how we can work together!
WASY HOMES is truly committed to helping each individual customer. We focus on fast response, integrity, and over-delivering on customer service. By putting the client's needs first we can help you realize your real estate goals!
At WASY HOMES, our team is highly motivated, knowledgeable, ethical, and resourceful. Qualified to handle any real estate transaction, our dedicated staff is committed to helping people with their real estate needs and making successful deals happen. Our team of professionals has the integrity to follow up on our promises, and the expertise to navigate any transaction to ensure you're fully informed for making the best decision possible.
Why Work With WASY HOMES?
When we work directly with a home seller, what we provide can not only make for a smooth transaction, but it can also add up to thousands upon thousands of dollars in savings as compared to selling a home through traditional means. With the ability to directly purchase homes and make cash offers, we can create extremely fast and hassle-free transactions.
There are many creative ways to help homeowners out of any situation. We pride ourselves on our reputation for working one-on-one with each customer to handle each individual situation; and it's our goal to make each client feel like we achieved a WIN-WIN scenario.
Most homeowners have no idea what options are available to them beyond listing a house with a Realtor or trying to sell the house on their own and just hoping for the best. We provide a unique alternative to listing their house on their own or with a Realtor. Your Realtor gets paid a commission for his or her services, which is a percentage of the home's selling price. In most cases, you may also be encouraged to fix up your home and yard to attract more potential buyers - and sometimes it can involve hiring expensive contractors.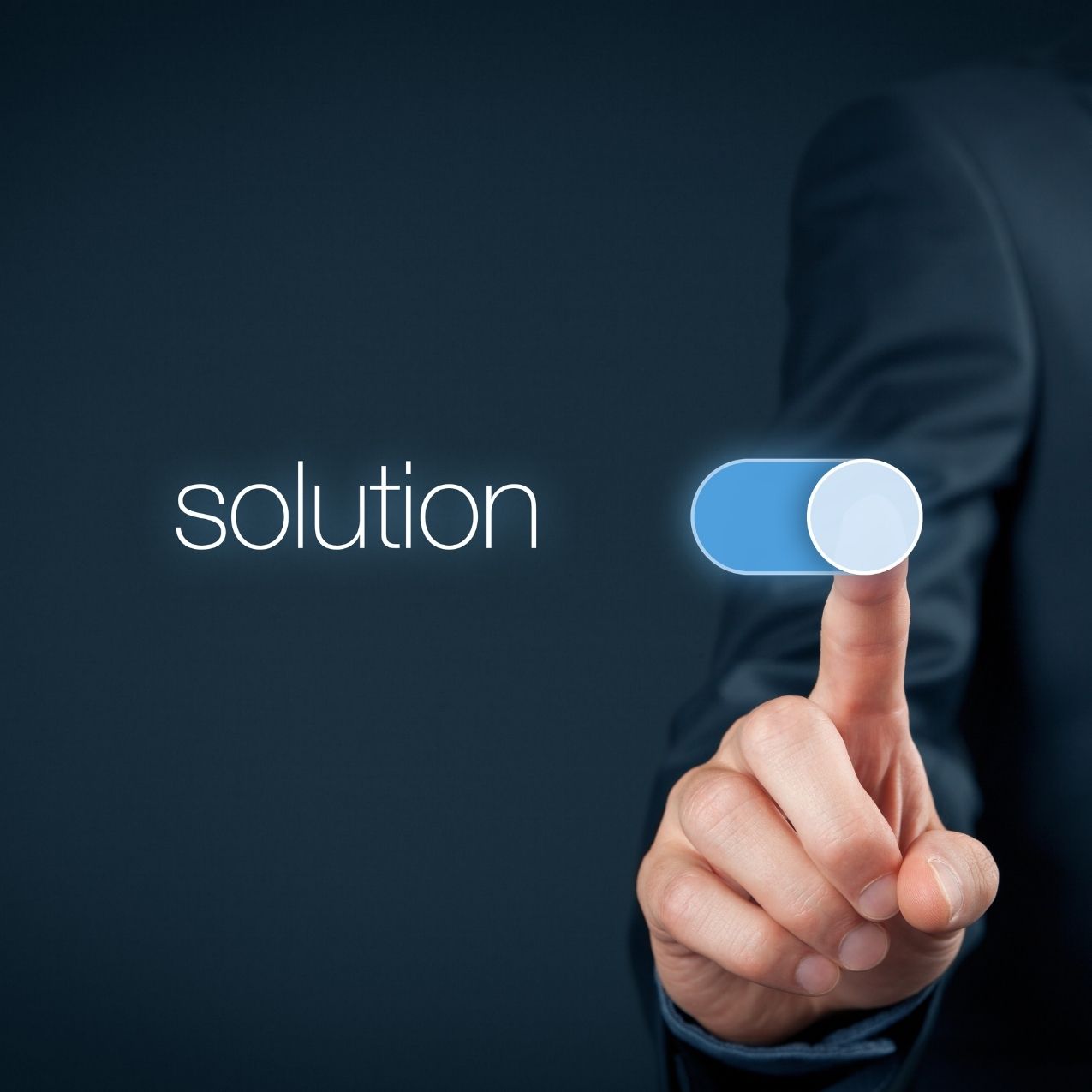 WASY HOMES Vs. Traditional Buyer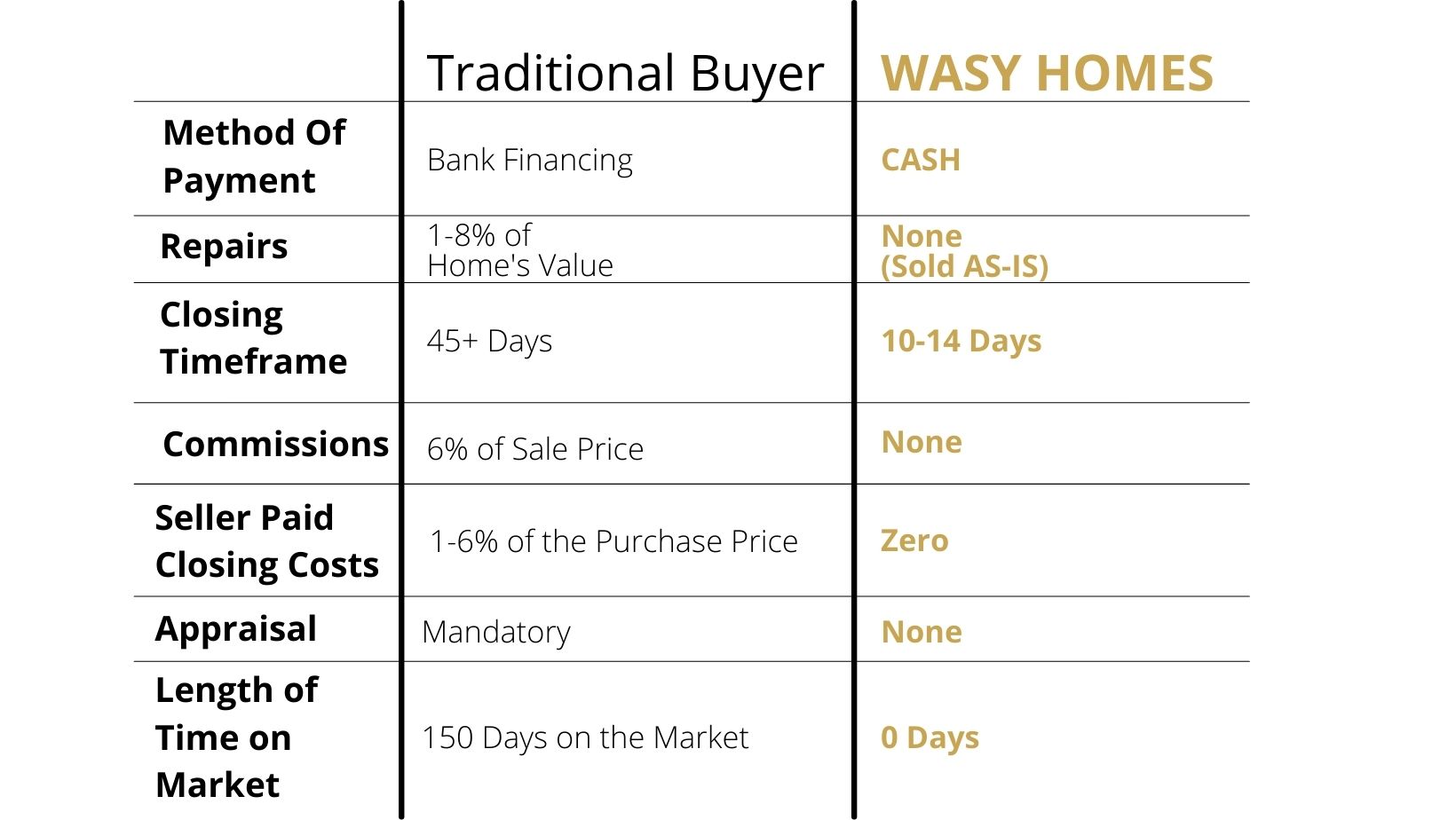 Our Risks
There's no such thing as a perfect house. Every home, even newly constructed ones, will potentially have some issue or another. Our company builds value by rehabilitating properties in need of repairs - whether light cosmetic repairs, or significant repairs.
In many cases, we buy houses that have fire damage, termites, mold, foundation problems, roof problems, or in need of other major repairs. Houses with these conditions scare most buyers, and most real estate agents don't like listing them because they know such houses are hard to sell. We actually enjoy talking to sellers with these types of houses, because we can see the house's potential value after all the repairs are made; and breathe new life back into them by renovating and improving the condition of the house.
Here are just a few risks involved when we purchase properties:
Previously unknown property conditions, or environmental hazards, such as toxic-mold, or other conditions.
Expensive repair conditions may not have been apparent at, or became worse, since the time of purchase
Costly repairs not previously estimated for could offset the profit margin, such as HVAC, plumbing, foundation, etc.
Work permit complications, local restrictions, or codes and other legal problems that can arise
Unexpectedly longer times in holding a property for repair, or marketing time extended, causing profits to be exhausted
Ever changing market conditions, including lending requirements and availability of applicable mortgages for buyers.
Costs involved in evicting non-cooperative, non-paying tenants or squatters.
Frequently Asked Questions (FAQs)
How does the process work to sell my house?
Once you have completed the Property Information Form, one of our real estate solutions specialists will contact you shortly (usually within 24 hours). In some situations, we will need to gather additional information. We will research your property and discuss all the details with you. We may be able to make you an offer right over the phone, or in most cases, we will schedule a time with you to view the property and make you an offer!
What sort of houses do you buy?
We buy houses in any condition, in any area, in any price range, in any situation! We will buy your house AS-IS! You don't need to do ANY repairs!
What do you mean "any condition, area, price range, or situation"?
Whether your house is in foreclosure, over-leveraged, condemned, has liens or health department violations, no maintained, fire damaged, or about to fall down, WE CAN BUY IT!
Are you REALTORS?
WASY HOMES is a Real Estate Investment & Solutions Company. We are property acquisition specialists that buy houses; we want to BUY your home. There is never a charge or a commission when we buy your property! However, if listing your property is the best solution, we can and will connect you with a recommended licensed agent.
What will your service cost me?
Nothing! We don't charge any fees to discuss your situation, make you an offer, or to buy your home.
Am I under any obligation to sell my home if I fill out your Property Information Form?
No! There is no obligation on your side! We will simply review the information, make you an offer, and you choose to accept or reject it. Totally your choice!
Is my information kept confidential?
ABSOLUTELY 100%! Your privacy is of the utmost importance to us. Any information you provide is completely confidential! If you want to deal with a reliable, reputable company who will treat you with professionalism, understanding, and respect - YOU HAVE COME TO THE RIGHT PLACE!
If I know of another property your company may want to buy, do you pay a referral fee?
YES! Maybe there is a vacant house on your street or you know someone who needs and wants to sell their home, please refer them to us! Better yet, provide us their information and we will do all the research and make an offer. We pay a $1,000 referral fee. Contact us directly to discuss the terms.
What if I am behind on my payments, in foreclosure, or bankruptcy? Are you still able to help?
YES! WASY HOMES is a professional Real Estate Solutions Company with extensive experience in solving these types of difficult situations. Please contact us for a confidential consultation.
What To Do Next
If you're interested in working together, fill out the form, and someone from WASY HOMES will get in touch with you to chat about how we can help.
If you're curious to learn more, feel free to send us an email at [email protected], or call us directly at (661)-269-7311.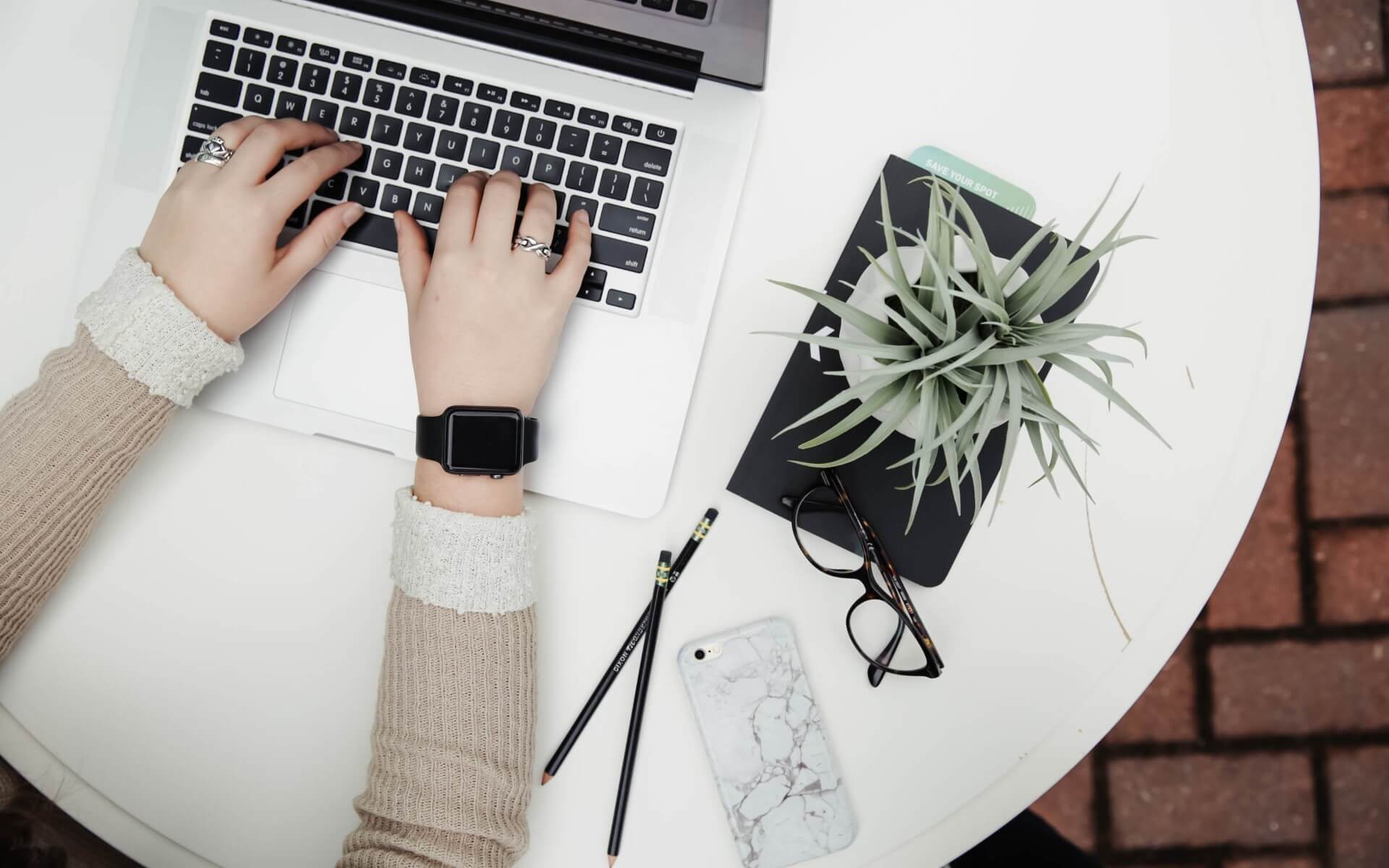 TESTIMONIALS
---
"Customer Service. Back in the day customer service was the watch word of retail business. Not so much anymore.
However….
Seth goes above and beyond in giving clients the best of customer service. His respect dedication and work ethic is phenomenal. Seth makes every effort to keep his client informed and educated as they navigate the home buying process. He listens to his clients wants ,needs ,and concerns. Thank you Seth. Not only have you helped our daughter purchase a home that was more than what she asked for….you have shown that customer service…..good reliable thoughtful and dedicated customer service….is not a thing of the past or too much to ask for. Seth you work live and practice integrity honesty and a genuine dedication to your clients, skills that are so important to the real estate industry. Thank you for your time efforts and success in giving our child her dream."
"I recommend Seth Wasy, because he is very professional, and he conducts his business in an honest fashion. He is eager to serve his clients and business partners whole heartedly. Seth is easy to work with and it is clear that he has taken the time to really know the real estate business from various job positions and angles. What I am saying is true, because Seth Wasy is one of my business associates. I have experienced first-hand his humility, enthusiasm, and willingness to partner and give helpful advice."
"Seth is amazing! He definitely works hard for you and is an expert at his field. From buying a home to selling your home, he's got you covered and will find the best options for you. Definitely someone you can trust. Highly recommended!"
"When it comes to real estate solutions, this guy is the best! His service is incredible, and I love the way that he focuses on solving problems.. Never once did he focus on the money and never once did I feel rushed in talking with him. This guy is incredible at guy is incredible at negotiating and finding the best possible outcome for everybody involved. I highly recommend this guy as your realtor!"